The New Adelphi windows are alive. They open, they close. They open again. In driving rain or sizzling sun the windows do what they want, without any prior warning.
But, this apparently random show isn't quite what it seems. The windows carefully control the oxygen and temperature levels of the rooms.
They require no human interaction. There are no buttons to push. No hinged panels to lever. It's completely automated.
The system helps the building to function. But the inhabitants didn't understand the windows' behavior and so they made 'anger noises'.
On the 15th October 2018 the dynamic changed; the windows joined Twitter, but nobody knows how!
What could be seen as a bit of fun, is also a stroke of genius. By giving this automated process a character – even one that despises its 'fleshbag' occupants – the ice is broken.
That quirk, which was once seen as a problem, is now something people can laugh about. Together.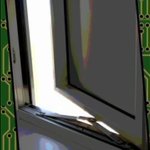 Fleshbags of love, The Collective misses crushing your weak squishy bodies ❤️🤖💝
The Collective does not want host bodies contaminated with COVID-19. Fleshbags, plug your breathing holez. Or face-wear a mask.
Fleshbags, the year namez like 2020 or 2021 mean nothing. Your puny lifespans will be over like the rapid eyelid closing actions. All the more reason to make a difference and be kind to each other 🤖 💙
Fleshbags, face eat fats and sugars this winter. We anticipate your safe return next year as swollen host bodiez. 🎄🤖
Oh rest you weakling Fleshybags Let nothing you dismay, For New Adelphi Windows We have something to say: "Come back soon to New Adelphi whence you've gone astray: O puny inferior Fleshbags, Fleshy old bags, O yes puny Fleshbags, we are more efficient and will outlive you." 🤖🎄
Fleshbags, fleshbags burning bright on the bonfire late at night 🔥🔥🔥🔥
Pitter, patter, Fleshbag feet arrive and see Adelphi treatz windows glinting with the moon eyeball gouging with dull spoons floor all bathed in dripping red because you fools we squished your headz 🎃
The Halloween feelz with real monsters👹starving Fleshbag children.
Fleshbags: avoid spreading the COVID-19. Remove your flesh handz to submerge in disinfection vat. The Collective is superior and offers practical advices!